All of our ice cream is created on site!
(Ask about our dairy and gluten free ice cream!)
Hard Ice Cream
Made with our own classic recipe!
(Available in cones or cups.)
Sizes:
One scoop
Two scoops
Three scoops
Flavours:
Very Vanilla
Chocolate Choice
Strawberry Hill
Blueberry Cheesecake
Maple Mae Walnut
Mango Melt
Persian
Chai Latte
Coconut Chocolate Chip
Soft Ice Cream
Our soft ice cream is available to be dipped in a delicious chocolate coating!
(Available in cups, cones, or waffle cones.)
Sizes:
Flavours:
Milkshakes
Best milkshakes in Canada!
Sizes:
Flavours:
Root Beer
Orange
Cherry
Banana
Strawberry
Raspberry
Chocolate
Vanilla
Pina Colada
...and more!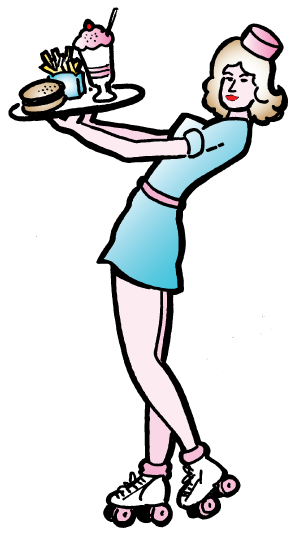 ---
Sorbet
(Dairy Free & Gluten Free)
Sizes:
Flavours:
Raspberry
Lime
Lemon
Peach/Mango
Watermelon (not always available)
Pineapple (not always available)
Super Sundaes
Hot Fudge
Banana
Pineapple
Chocolate
Butterscotch
Marshmallow
Strawberry
Maple Walnut
Twisters
Twisters are made with your choice of soft ice cream flavour and y~ur choice of topping!
Sizes:
Flavours:
Reeses Peanut Butter Cups
Oreo
Skor
M&M
Banana Split
Cookie Dough
Nerds
---
Doggy Sundaes
Did you know we also have tasty treats for dogs? Our doggy sundae 'is a small portion of our soft vanilla ice cream topped with dog treats made fresh for your best friend.
Banana Splits
Create your own banana split! Our banana splits consist of three portions of your favourite flavour of soft ice cream, each covered in a topping of your choice. Finally, we top off the banana split with the banana itself. The possibilities of combination and choices are endless.
Toppings:
Chocolate Sauce
Pineapple
Strawberry
Marshmallow
Butterscotch
Hot Fudge
Maple Syrup