Gelato Cake Selections - Only At Merla Mae
Once you are making your own gelato in-house, it's only natural to move beyond that too. Welcome to the Merla Mae Gelato Cake Selection. This has been a long time coming because there are some culinary and technical details to work out; but the the wait was worth it. Here are the current selections: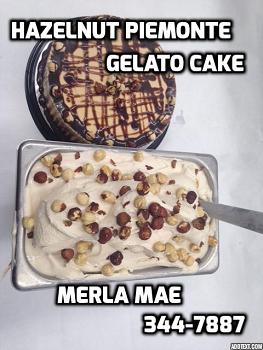 Hazelnut Piemonte Gelato Cake
We have added this particular cake to our Gelato Cake lineup because of the tremendous popularity that hazel nuts enjoy in other types of desserts and treats. Ours is made with hazelnuts from the Piedmont region of Italy, and we hope that you enjoy the authentic hazelnut flavor that has a slight roasted taste, so reminiscent of other makers of premium desserts, e.g. Ferrero Rocher.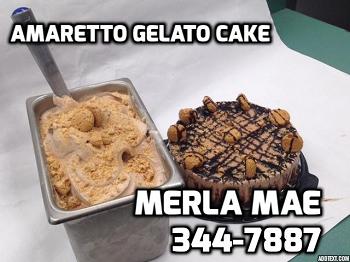 Amaretto Gelato Cake
The Amaretto dessert has been very popular throughout the summer, and with some addition changes, this Gelato Cake continues to be loved by many. We hope that you too will come to take joy in presenting this elegant Gelato Cake at your next festive gathering.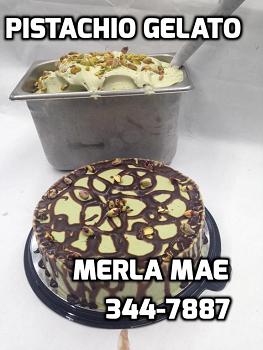 Pistacchio Di Bronte Gelato Cake
Named after Bronte, a city in Sicily, and famous for the uniqueness to the Bronte Pistacchio. While the growing and harvesting of the Bronte Pistacchio is difficult to do, we hope you come to agree that its' taste is worth it. There are other desserts that have grown famous for their use of the Bronte Pistacchio, and we hope you agree our Gelato Cake should be one of them.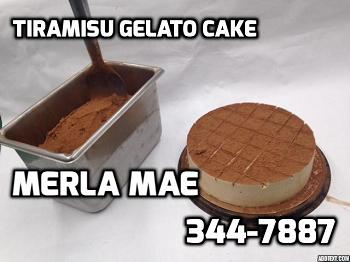 Tiramisu Gelato Cake
Named after the traditional Italian dessert, this version is sure to please people looking for something much more than just vanilla ice cream.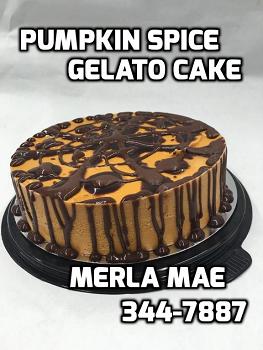 Pumpkin Spice Gelato Cake
Just in time for Thanksgiving, this perennial favourite for people in Thunder Bay, our gelato cake is sure to give that Thanksgiving dinner a wonderful finish – a completely different type of dessert!
---
We make these gelato cakes and keep a very small number available each day to assure you of FRESH gelato cakes. So, if you drop by, we ordinarily have what you want; but to be sure, please call us and we can then reserve that gelato cake for you. We can make to order as well, again so you get exactly what you want, and we maintain the freshness of our gelato cakes.
Cakes are also avaliable at the following locations:
Maltese Grocery
301 Pearl St.
(807) 344-5911
Fresco's Deli
116 Frederica St. E.
(807) 623-7799