At Merla Mae buns are baked fresh daily from Donato´s Bakery
Donato´s Bakery has its origins in a long standing family tradition of bread makers going back a century to a southern Italian mountain town of Simbario, Calabria. Bread making a century ago was not much different from that of the ancient Romans. The bread itself is a simple recipe of flour, water, salt and yeast and not much more. It was baked in a wood oven that was carefully watched by a skillful eye since thermometers and gages were non existent. Although the recipe is a simple one, the art of making it is anything less than simple. The process involves an intricate knowledge of the ingredients and process along with several hours of laborious kneading, setting, rising, shaping and baking at precise steps and sequence.
This tradition can be traced back to the early 1900s through the "Marinara Clan" with the teaching of this skill to Caterina Primerano (di la Marinara). She was the first daughter of Concetta di la Marinara born in 1903. By 1910, young Caterina was already able to make bread on her own. Once she was married to Giuseppe Romano, he was so impressed with the baking skills of his young wife that, as a wedding present to her, he had a commercial oven built for her and she quickly started to make bread for those who asked for her services. Payment for her skills usually came in the form of some of the bread that was made for the respected families or other forms of monetary disbursements.
Caterina di la Marinara had four daughters whom she has passed this traditional skill to. They are; Rosaria(†), Concetta(†), Maria(†) and Immacolata. All of whom were active in the bread making process alongside their mother, even after they all got married. Her daughters continued to use the original wood oven for their own personal and commercial baking need as well. Immacolata once remembered, as a young girl, was tasked by her mother to take a basket full of bread to the near by village to sell for some extra cash.
The eldest daughter, Rosaria(†) (Married to Bruno Donato(†)), brought this tradition over to Canada and specifically to Thunder Bay, Ontario. Rosaria(†) has two daughters, Rosina and Caterina whom also have been taught the traditional skill passed on by mother to daughter. The youngest daughter, Caterina, named in honour of the original matriarch, has in turn passed this skill to her son Donato (Donny) who is now the principal bread maker at Donato's Bakery in Thunder bay. Caterina (Cathy) could not be more pleased with her family's fervour to continue the tradition of the "Marinara" bread making clan that now stretches back more than a century.
Caterina Donato Bruno di la Marinara, Grand Daughter of the original matriarch Caterina Primerano di la Marinara(†) of Simbario, Calabria, has herself 3 sons whom she has passed this skill to and whom are, even now, making bread in the traditional manner by hand using only the simplest ingredients with no preservatives and following the original steps and process as set out by their Great Grand Mother. Today, although the bread and pizza made in Thunder Bay are no longer baked in a wood fired oven, they are however, baked on stones much like those found in the original wood oven back in the old country.
Ancient Process of Traditional Bread Making (here we see Caterina di la Marinara and her original wood oven in Simbario, Calabria)
Left to right: Rosaria & Caterina di la Marinara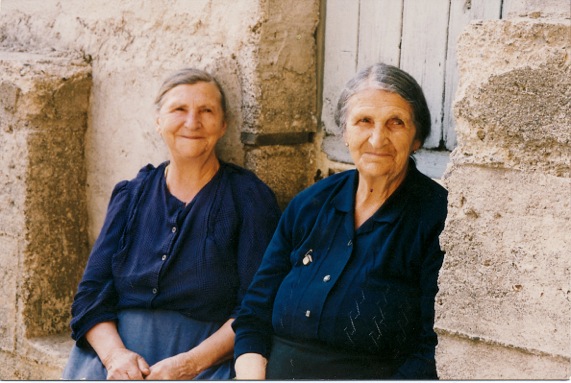 Caterina is the one wearing the black skirt